Here are some of our most frequently asked questions.
1)  How long do awnings last?  We offer several different brands of canvas and vinyl and their warranties vary from 5 to 10 years, depending upon the product you choose.   In most cases, the awning covers last well past their warranty period and the welded aluminum frames last virtually forever.
2)  Do you offer free estimates?  Yes, we have a salesperson who will come to your home, measure the area you want covered and show you the products we offer.  Our salespeople are extremely knowledgeable and will be able to help you design an awning for your home that will suit your needs and be aesthetically pleasing.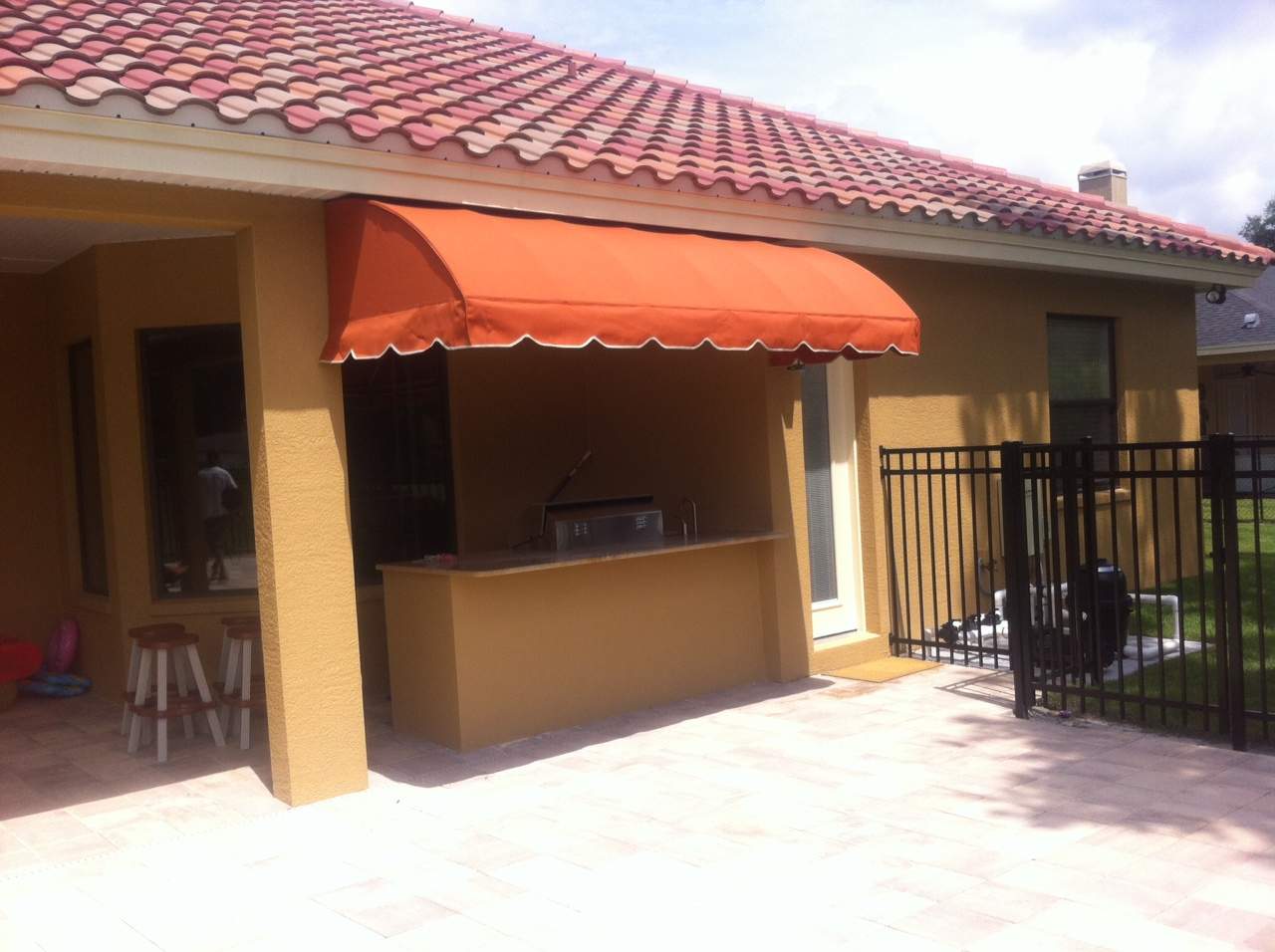 3)  How do I get a custom made boat cover?  Boat covers and  tops are done by appointment and for most covers and tops, the work takes only 1 day to complete.  Please call our office to schedule a day that is convenient for you to drop the boat off in the morning and pick it up in the evening.  T-tops and camper enclosures do take longer than 1 working day, however, we do have indoor storage where we keep the boats until the work is completed.
4)  Do the awnings meet building codes?  Yes, all of our awnings, whether they require permits or not, meet and exceed Southern Building Codes.  This means that the frames will withstand at least 120 mph winds and the covers must be easily removable.  If you are expecting hurricane force winds (over 75 mph sustained), you may want to consider removing the canvas covers from the awning frames.
5)  A hurricane is being predicted in my area… Should I remove my awning?  The frames can be left up during a hurricane, however, you may want to consider removing the canvas if you are expecting sustained winds over 75 mph.  For most style awnings, the canvas is slid into a track at the very top, back side of the awning and then laced around the bottom edges of the frame.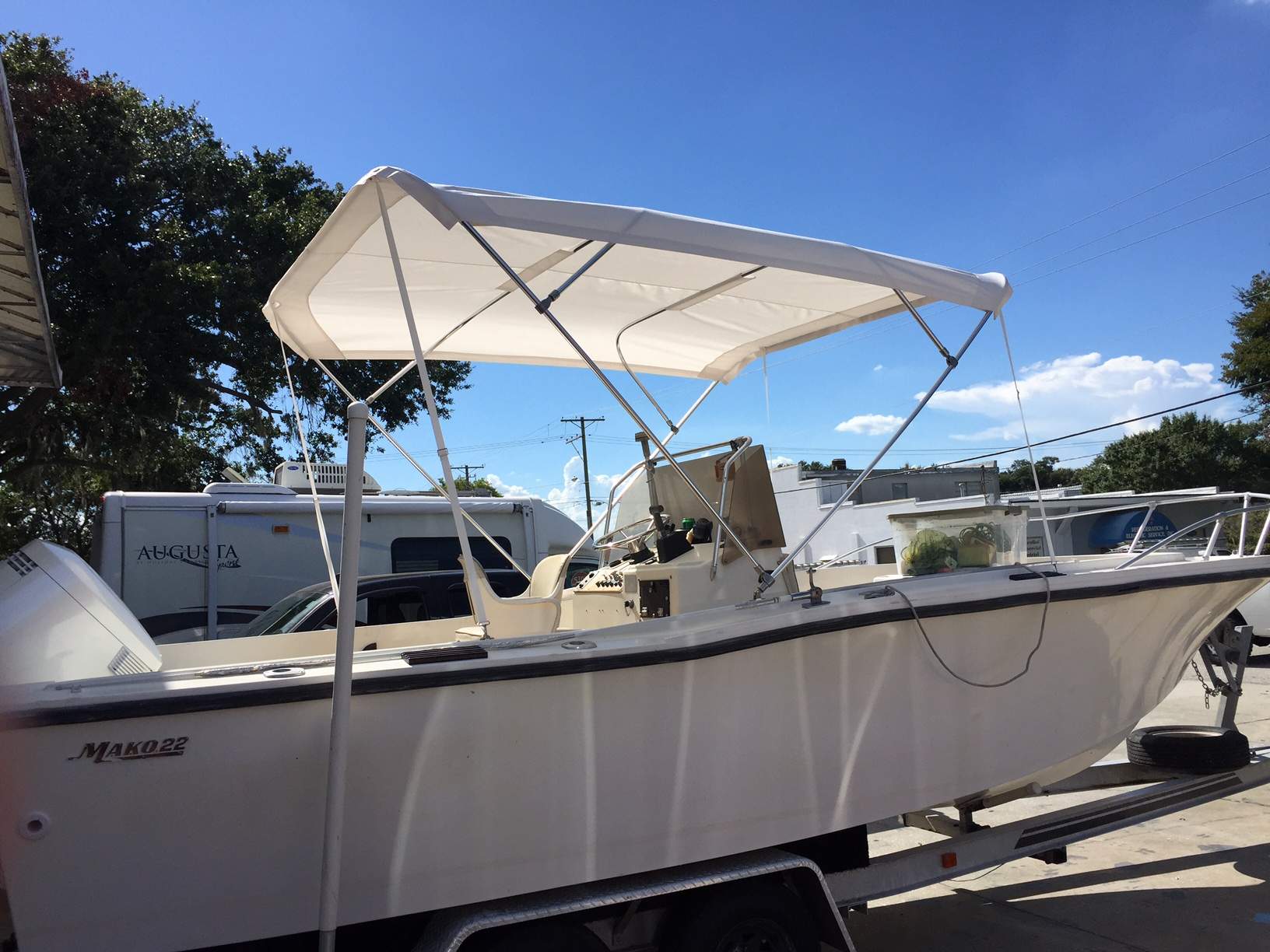 6)  How do I remove the canvas from the awning frame?  Removing the canvas is relatively easy and something most people can do themselves.  For most residential awning styles, you want to first remove the rope laces around the edge of the frame.  Then, once the rope has been cut and the canvas is loose you should be able to see where the remaining edge is slid through a track.  At this point, you should be able to slide the canvas out of that track.  If it does not slide, check to see if there is a screw in the track, preventing it from slipping out.
7)  Can we install the awnings ourselves?  Yes, we will be happy to build an awning to the customer's specifications and let the customer install the awning themselves.
8)  Do you do repairs?  Yes, we repair all types of canvas products.  Bring in your canvas for a free estimate.
9)  Are awnings affordable?  Yes, and in most cases awnings pay for themselves by reducing energy costs to cool your home or business.
10)  How do I clean my awning canvas?  For most residential awnings, we use and recommend Sunbrella.  For general cleaning, brush off loose dirt.  Prepare a cleaning solution of water and mild soap (i.e. Woolite or Dawn dishwashing liquid, ¼ cup per gallon of water).  Spray the solution onto the fabric and allow it to soak into the fabric.  Use a soft bristle brush to clean, then rinse thoroughly to remove all soap residue.  Air dry.
For stubborn stains and mildew, you can add up to a cup of bleach to your soap solution and allow this solution to soak into your fabric for up to 15 minutes before cleaning with a soft bristle brush.  Be sure to rinse thoroughly and air dry.
To see more tips and cleaning instructions for Sunbrella fabrics, refer to the cleaning charts at www.sunbrella.com
If you did not find the answer you were looking for, please feel free to call us!